Sunday, 6 December 2009
Ya-hoo~ooo!
One more week or rather, 5 more days till I get my armband.
The feeling of getting the vocation badge is already damn awesome.
Now I can't wait to get that armband of Tribal Immunity.
Also thanks to Ruby, more of my JCG peeps are picking up Weiβ Schwarz.
Plus my main deck is more or less stabilised now, can focus on building/modifying my other decks.
Now, I'm just waiting for the release of Haruhi deck and sleeves. I wantz my Nagato.
Just finish spoiling myself on the story of Rachel Alucard's arcade mode in BlazBlue Continuum Shift. Yet another cliffhanger, with the appearance of a blue-eye blond lady.
Hazama is another wicked character.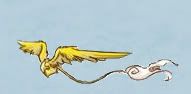 Existing the story...