Saturday, 26 January 2008
Special Short Coverage - Start Of the Year cosplay event @ NP, a.k.a. SOY08
Today, at NP LT26, for the first time ever, SOY. The event was great, new cosplayers, new costumes, new merchandises.
Like other mini cosplay events, there were many repeats like Trinity Blood's Sister Kaya from EOY07, Chibi Nel, Bleach from Cosfest07, Faust, Guilty Gear from EOY07 and Xanxus, Hitman Reborn! from EOY07.
There are also new cosplays such as Akito(cute one) in wedding dress version, Chibi Kon, FFIV team who took the place of 1st runner-up for team cosplay and Ryuuk from Deathnote.
Sadly, I took the wrong bus and arrived at the venue 15 minutes before the prize presentation, and had missed the bulk of the event. Furthermore, I didn't have a camera with me, so no pictures to share. T.T
However, I did managed to slack around and chat with my SGCafe friends, especially Broken (Faust), Kon and ReinHartX. Fiona from JCG was also cosplaying, though it was her who spotted me first. >.<
Seeing all these wonderful costumes sparked me to work hard for my own costume for Cosfest08. This time, I promise, I will not cosfuck again. The costume for EOY07 was a failure... It was too ambitious for a first time.
This time round, I'll make sure I do my ends of the strings.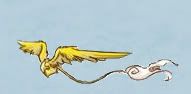 Existing the story...
Tuesday, 22 January 2008
Recently, a lot of things had happened.
Due to some cheekyness of my emo-side, I some how found myself at cold war with my 3th aunt. But...hack care! Who cares... For one, I hate being restrained by warpped and corrupted "respect"
Thanks to Ester from my care group, I am currently hunting english pop songs of the late 90s, from bands like Westlife, Backstreet Boys, A1, Blue, O town, 98 Degrees, etc.
Sad to say, I still like late 90s pop. Those are the songs that accompanied me through my childhood and teens.
Load's getting heavier by the minute. Must hold-on.
So I believe.
Beneath that graceful flight of her wings,
He raised his arm and gently caress her smooth face.
So I found, this crystal of theirs,
Formed through True Tears of two.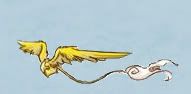 Existing the story...
Saturday, 12 January 2008
Phew! *Catching some breath
Pardon me for being MIA since the first day of 2008. All my projects are giving me no life....
Anyway, just want to share some of the wacky moments that happened during the past 6 days.
During PIA lecture two days ago, Siti, Joyce and Eugene from Rac's care group were kind of interested how long my "tail" was... In the end, Siti braided it... XD
Next is that during the same lecture, I adjusted the chairtable so that I can lean on it. The contraption did not fail me for the last few times but the screws came off this time round. It was so embarrassing.... Luckly the lecturer, Dr Tien Feng did not make any fuss. XP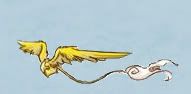 Existing the story...
Tuesday, 1 January 2008
1st post of the year...
Again, I 'll start of with an overview of last year's major things.
Firstly, I quitted Theory-G breakdance crew as I'm nothing but a burden to the crew. Hindering their progress and limiting their routines. But I felt no regret, I was half-hearted in the first place. Now, being just an ex-member, a hated one maybe, I'm more relax when I happen to meet them. I'm still able to converse with Erin, Dudefreak, WTF and Ivan in school though most of the time is random Hi/Bye and crap. If I meet Android, D.Munky and Ervin on the streets, I can still crap with them. For the rest of the crew, I'm not too sure as we're not too familiar with each other. There's one person I must really thank him. That is Peter, TG manager. His words and encouragements are the ones that kept Theory-G bonded.
The time I spent in TG had an impact on me, regardless good or bad. For one thing, I can still say that whenever I'm waiting for someone/something, I would toprock/practice the arm wave and chest popping, not caring about what others think. Thickskin, is one thing that I learnt there.
Secondly, JCG related events. The monday drawing sessions are like relaxing sessions now, we go there to curb our monday blues and people bring laptops, yugioh and books there to relax. The committe meetings are a dread as most of them are to address issues and mistakes that the current committe made. The halloween event was good, I was a shackled undead corpse with blood-stained chain hanging out of my left eye socket. CCN day cosplay was fun too, but I crewed up the costume. Though the Beach party@Sentosa 's a total failure, we had lots of fun that day. As for my future position in the main com next academic year, I still remeber that shocked I got when Wei Lee announced, my name for the position of the Quarter-Master. 0.o , I'm like holy crap! I've got no idea on the duties and responsibilities of the QM.
For the Hare Hare Yukai dance sessions, we managed to mastered the whole dance in a month. Though it's just a three minutes dance, we have lots of fun and I enjoyed organising these sessions a lot.
Shot of the last sunrise of 2007.
Yesterday, I was insane..... I took advantage of my brother's soon to expire(Today, 1st Jan 08) child EZ-Link card and took the MRT from paris ris to Juring East. Travelling started at 4pm
Shots of the EW line train floor...... XP
Having arrivied at Jurong East, I changed train to Dhoby Ghaut.

From EW line to NS line......

Shot of the darkening sky along Yew Tee.....
When I reached Dhoby Ghaut it was 6pm.

At last, NEL to home sweet home. XD
Total ride is $2.45. Suppose to be only $0.45 but I "overstayed" so there's a penalty of $2. But nonetheless, I still managed to spend just $2.45 to travel the whole Singapore. XD
Happy New Year to all~! XP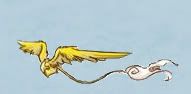 Existing the story...