Sunday, 20 December 2009
New job, new place, new deck and new present. XD
Graduated from school last Friday. All the time I spent there would stay in my memories.
"Partings are not the end of the road. Partings mark the beginning of a new path and are promises to meet in the future."
Gotten a new job, been working in a clinic for the week.
Learnt lots of new things and made some friends there.
Well, some as it's just a small clinic.
Did my very first out-of-clinic job yesterday but it caused me my slot in the Haruhi Trial deck tournament held in TCG during the afternoon as the "job" dragged till late morning/noon.
For consolations, I get to test out my very own Haruhi Trial deck with Wayne.
The X'mas gift exchange party in Invinc's house was kinda awesome.
I goot the latest edition of "Newtype" as my gift.
Thanks Lockie XD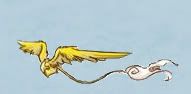 Existing the story...
Sunday, 6 December 2009
Ya-hoo~ooo!
One more week or rather, 5 more days till I get my armband.
The feeling of getting the vocation badge is already damn awesome.
Now I can't wait to get that armband of Tribal Immunity.
Also thanks to Ruby, more of my JCG peeps are picking up Weiβ Schwarz.
Plus my main deck is more or less stabilised now, can focus on building/modifying my other decks.
Now, I'm just waiting for the release of Haruhi deck and sleeves. I wantz my Nagato.
Just finish spoiling myself on the story of Rachel Alucard's arcade mode in BlazBlue Continuum Shift. Yet another cliffhanger, with the appearance of a blue-eye blond lady.
Hazama is another wicked character.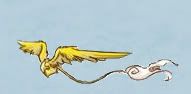 Existing the story...