Tuesday, 30 October 2007
One week of school had gone passed.
I finally start to recover from my school days blues.
Last saturday, JCG had our own Horror Night as an advance celebration for Halloween which is technically tomorrow.
It was fun, dressing up as a one-eyed zombie, with chains dangling from the empty eye socket.
Kinda like a mini cosplay.
The next one shall be on CCN day, where I am going to cosplay for the JCG booth and as a dry-run for my EOY costume.
Currently, Im taking principles of retail management for my elective. AS OWNS Business!!!!
All the questions that the lecturer ask were answered by AS students, including me. XD
Oh yar, I was lucky last friday. I went to play gachapon and I got my second Air Gear figurine, Akito in wedding dress. Now I got both Agito & Akito. Yata!!!!!!
Sadly my luck seems to diminish when I bought the Lucky Star figurine box, hoping to get Konata or Miyuki. Instead, I got the blur and forgetful Tsukasa. However, the details are good and there seems to have no painting mishap.
I still want Nagao Yuki!!!!!!!!!!!! >.<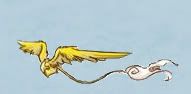 Existing the story...
Wednesday, 24 October 2007
Third day of school, I'm already having this butterfly feeling of wanting to time-travel to the future two weeks holidays during the December term break.
I still can't get used to school again.
Last vacation was so much fun that I really want to just discard the possibilities of my future and return back to one month before.
I wanna return to the days which I spent with my friends, when I casually travel to TP and up to IT5-5/6-XX and crap with them, the days when I wander aimlessly throughout the shops of Sunshine Plaza and Chinatown, the days when I play arcade games with them and when we dance Hare Hare Yukai together.
Of all the drugs I've taken, this is the most addictive and even as I type this post, the withdrawal effects have taken effect.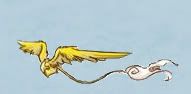 Existing the story...
Tuesday, 23 October 2007
Second day of school, assignment is handed down.
My com skills class this year is a mixture of my course BMS and ChE year 3. The lecturer is very approchable and frank.
This very firset lesson, she straight away talked about interview dress code.
Guys - cream shirt and pants, look like from hua chong. Brown, like from NY. Black and white combo is very "old". Purplish-blue look good, maroon also but not purple and pink. LOL
This sem, it's all about cover letters, resume(pardon me if I spelled it wrongly) and interview skills.
Tomorrow will be from 9am to 1pm. Sigh...
It seems like I can't hold the Hare Hare Yukai dance sessions anymore as all the different timetables clashes with each other. I may have to sacrifice one person to conduct it during saturdays, which is not what I wanted. Fun things must be shared with friends whom have the common interest.
Well, some of my friends will hear/heard me say "moe".
Pardon me if you hear that as I'm walking on the path towards being a 1/2 otaku in the near future.
In the realm of otakus, the term "moe" is crudly translated into "turning on" or passionate interest.
If you're drawn to the emotionless Nagato Yuki showing emotions, that's moe for you. XD

Moe Banzai!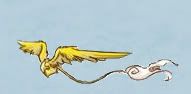 Existing the story...
Thursday, 18 October 2007
It's nearly a week since I last posted anything.
I've just checked my timetable for the new semester and it rocks. No more 8am lectures except on fridays, no more waking up 1 1/2 hours after the first breakfast of Mac.
Bad news is that school starts next week when I thought that I have one more week of slacking.
Sigh.....
I'll have to re-tune my sleeping timeframe and duration as lately I've been gaming to the hour of the first Mac breakfast and waking up when my alarm clock reads half past 13th hour. XD
Right now, there is this guilt feeling in me which is threathening to lyse my biological vessel. I had done nothing for the past two months except for a two days job which bagged me a net gain of $150 a day.
The rest of the time were used for roaming the streets in search for muskets, colour wax/blonde wig, slacking at home, gaming, crapping with friends in drawing sessions, KFC dinners and Hare Hare Yukai dance practices(I still screw up the second part of the routine and I'm too fast at most of the time (///.///) ). Oh, not to mention travelling and shopping for anime merchandises and firgurines.
Now, like many out there(Positive about it), I'm suffering from School day Blues.......
To make it worst, it's pouring cats and dogs outside.....................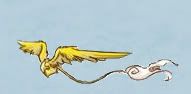 Existing the story...
Friday, 12 October 2007
Ever wondered what actually happens after a movie is filmed? Let us now take a sneak preview on the backstage scenes of the popular anime series Full Metal Alchemist after the cast had finished the movie - Conqueror of Shamballa.
Enjoy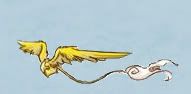 Existing the story...
Behold! The might of the Autobots has invaded our daily lives.
What seems to be a normal Nike Free shoe actually transforms into a gun wielding robot that vowed to destroy his opponents using his shoe-lace ultimate attack.
Next we have the Ipod speakers that morphs into a sound blasting bot which ultilise his audio cannon to blast and objects, from dust to dust...
Want one yourself, they are a hefty $160SGD EACH!
Save up kids......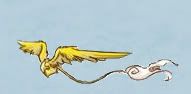 Existing the story...
Wednesday, 10 October 2007
Weeeeeeeeeee!
I got my Fav Air Gear figurine form a $2 gachapon.
AGITO - Fang King of the Bloody Road. XD
Sadly pics are of low quality as I use my handphone cam, 1.3 mega pixel oldie type.
The blue rubber strip he's holding on his right(our left) is damn hard to hook into his hand. The grip is not so good and the rubbler kept unwinding back, away from the hand. The painting is nicely done though, ups for a gachapon toy.
Well can't expect much from a $2 firgurine but overall, it's worth the money. XD
Enjoy!!!!
Yes people, in the background is my personal comp which I've been trying so hard to hide the solid fact that I own it.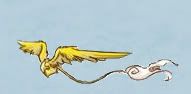 Existing the story...
Sunday, 7 October 2007
Moe!!!!!!!!!!
I can't wait for the cutest MMORPG to be release by Team GE, yes they're the ones who brought Granado Espada to Singapore.
This new game is currently found on Korean, Japanese and Thai Servers.
Emil Chronicles Online it is. XD
There are three race and many classes.
Emil - Human looking, has the highest vitality ratings. Hmmm maybe reference to the Human's "Never Say Die" attitude.
Titania - Angel looking, has the highest intelligence ratings. Mages-to-be, I'm spectulating this class to be popular choice for mages and summoners.
Dominion - Incubus & Succubus looking, has the highest strength ratings. Swordsman? Assassins maybe?
This game owns Maple. All hands down......Maple only rox when it was the beta testing period.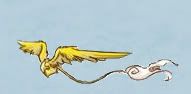 Existing the story...
Saturday, 6 October 2007
Minasan, Konnichiwa
Genki desu ka? Boku wa genki desu.
I've just finish watching Clannad TV series.
Seriously, it has a Kanon X Air feeling. I like the humor though, very funny. However the best humor series is still Suzumiya Haruhi-sama.
Here's the link to the anime at crunchyroll.
http://www.crunchyroll.com/showmedia?id=173155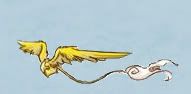 Existing the story...
Friday, 5 October 2007
Below is the advertisment for the up-coming PSP game of "Suzumiya Haruhi no Yakusoku!" or The Promise of Suzumiya Haurhi.
I reckon it's a graphic novel based on the forth novel of the SOS series. If you listen carefully, Haruhi mentioned that there are multiple endings. I guess this must be the trademark of all graphic novel games, having multiple endings.
Haruhi X Kyon
Yuki X Kyon
Mikuru X Kyon
KYON YOU CHEAP B*****D
LOL, joking joking
Poor Itsuki
Official Link -
http://b.bngi-channel.jp/psp-haruhi/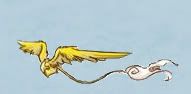 Existing the story...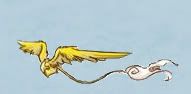 Existing the story...
Wednesday, 3 October 2007
Hare Hare Yukai FTW!!!!!!!!
HARUHIISM RULEZ!!!!!!!!!!
Darn! I saw myself dancing on Youtube!!!!! WT!!!!!
(///.///)
That was after the first practice session. Major screw-up on the second half onwards. T_T
Mada-mada desu.
(////.////)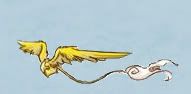 Existing the story...
Monday, 1 October 2007
Rights, I'm back from work. XD
Never in my life would I imagine that the company that I was working for is Wyeth.
For those who didn't know who Wyeth is, it's a comapny that produces children medical products from milk powder to vaccines.
Me as the Pneumo-Bear. Looks more like a mouse than a bear as the body area is too tall or the head is too small. Ps - Bear-bear had drank Red-Bull, it has wings!!!!!
Another mascot, the Smoo Cow from Marigold Smoo Milk
I saw this cool looking 1.8 tall X10A-FREEDOM Gundam in Toys'R'Us Vivo, took some shots of it.
One thing's missing!!!! Where's the Pulse-beam Rifle?????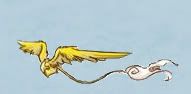 Existing the story...