Sunday, 25 November 2007
Good Night!
While sorting out my files in my hard-drive, I just found out I have some interesting links to youtube videos.
http://www.youtube.com/watch?v=Vh_peXHCX04
The internet is for pr0n (Ouran version)
http://www.youtube.com/watch?v=P-SXg-15IMc
Code Geass unofficial(fake) game
http://www.youtube.com/watch?v=vD4OnHCRd_4
Titanic 2
Watch the videos before continuing reading.
The internet is for P0RN! XD
It's actually a spoof using the song and World of Warcraft character classes. An Ouran fan managed to compose a promising video using different cutsences.
I take my hat off for the Code Geass fan-made video, highly resembles a Dating-Sim/Harem game. Sadly Code Geass is far more dark, almost to the point of being like DeathNote.
The last video is by far the most convincing one. I almost got tricked if not for the scenes of Leonardo DiCaprio wearing the flowery blue beach shirt from Romeo+Juliet and various parts from Catch Me If You Can.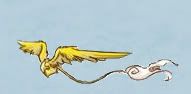 Existing the story...
Wednesday, 21 November 2007
Twisted and warped, he slashed the Magus who had defiled his very soul.
Covered in crimson fluid of sin, he then staggered out of the hell-fire, only to be shot by the one he hold most dear.
He cursed the Gods who fabricated his fate, he cursed his destiny. Ultimately, he cursed himself for being weak.
With his last breath of life, he swear that he will protect her and watch over her.
Void-black wings radiate from him, engulfing everything in the warth of gods.
The only surivior was her and on her chest, the stigma glows.
The proof of the fallen angel's love for her, protecting her for eternity.
Yet the scene was too hard to bear, dealing the tarumatic blow to her.
Memories flew away like shards of broken crystals.
She continues to live on as her true vampirc body never age.
However, unknown to her, the pair of void-black wings will always shield her from harm and unhappiness.
For eternal, as a proof of their love.
Feeling kind of wanting to write up some story, only to cook up the ending/beginning(depending on how to read it), hope you like it. Enjoy. XD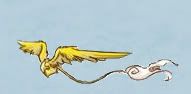 Existing the story...
Sunday, 18 November 2007
A lot of things happened this week.
I've mastered the art of drawing/sketching while sleeping. Below are my best art pieces. XD


Yesterday was JCG's beach party.
It's was so sunny yet today is thunderstorm..... T_T
I managed to captured a shot of the sunset at Siloso Beach just before we took the train out of Sentosa.
It will be a long time before I set foot on that money eating island again.
Dinner last night was in Kopitam of VIVO. I'm surprised that can can actually taste heaven with just $3.70. The fish slice steamboat was great. Best of all, all of the AM subcomm gang-tease Johan until he summit to our teasing. LOL XP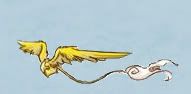 Existing the story...
Sunday, 11 November 2007
Ahhhh.....
It has been a long time since I last blogged. It was a busy week for me as I have to run to my CCA event booth to help out.
Due to some recent changes that had happened, I'm currently adjusting to my current lifestyle. I managed to get myself to play the game that I thought I had grown out of, Yugioh.
There were some moment of fury as my EOY costume had some fatal errors but I can't go back to the tailor to fix it. Knowing that the design is tricky, the tailor was given 5 months to do it. However, I wonder why she had to wait till the last few days to rush it. I heard that she even had a vocal fight with her colleague for forgetting to tailor the design on the sleeves.
I may not have the right to complain as they're doing this for me, FOC. As tailors for a colthing manufacturer, I understand that they have to meet their monthly stocks quota. But, 5 months......... 5 Months.......
Sigh........
Lesson learnt - Choose a simpler character to cosplay. Hire a tailor instead of relying on relatives' employees as money buys quality.
Shot of my tail. Jeanette was curious about how the tail would look like if she add on an orchid(Wei Lee's orchid, from TP Green house).
The poster art for the beach party event booth, done by the designers.
The following will be the shots of the figurines which I mentioned in earlier posts.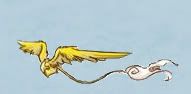 Existing the story...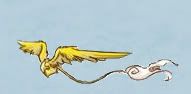 Existing the story...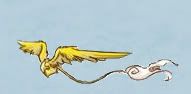 Existing the story...
Tuesday, 6 November 2007
Weeeeeeeh!
Volleyball and tennis beside TP Library.
Today, I met and befriend another Zen. Cool!
Now, we have two Zens
My comp seems to hate me. T_T
It was the second time when my recycle bin mysteriously disappered from the face of my desktop. Neither can I use the search function to locate it.
There's only one way now, and it is to RF my comp....
Sigh.........
Backing up my files now.................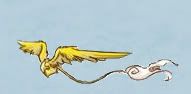 Existing the story...
Friday, 2 November 2007
Rights, 2nd day of November. School has been a normal day today, with the exception that promotion for the Beach Party is still underway.
Anyways, my tag board was just taken out from the oven. It's flaming hot.
The dessert that I'm making require some cooling before adding the garnishing. So people, let us all wait for them to cool down.
Of course I would much perfer to ignore the heat and start eating the dessert now. After all, custard puddings taste best when their just fresh from the oven. Top them up with maple syrup and they're all ready.
The verdict has been announced.
The tribe has spoken.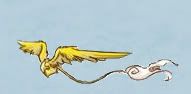 Existing the story...