Thursday, 28 May 2009
Day 6 - 28 April
Woke up fairly early that day, 5am in fact, in hopes of seeing the Tsukiji fish market in action and OMG! The sky was already as bright as 9am.
However, we were too late for the action, only to see the market in the final phase of their daily routine, the fast-speed-packing & transporting of the fresh sea products.
Had fresh sushi for breakfast and encountered one embarrassing/traumatising event.
I specifically told the sushi chef that I do not want wasabi in my sushi when I ordered a 1700 yen special which offers 15 assorted pieces of sushi, but the chef forgotten and out of the 15 pieces, only 3 pieces are untouched by the wasabi.
I struggled to eat those wasabi-fied pieces causing the chef to notice my epic battle, apologized and remake the whole set.
You might feel that its the wasabi that was traumatising but nope it isn't. The sushi in Japan is twice as big as local ones so again I struggled to finish the sushi. Felt very bad as I couldn't finish the sushi.
Luckly the chef is understanding and the whole crew greeted us with a warm thank you when we left.
Head over to a place near to Tsukiji for a morning stroll and it was along the Yamamote line.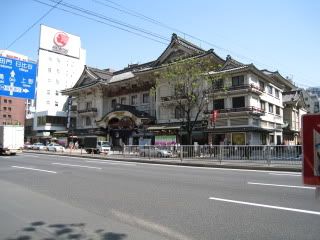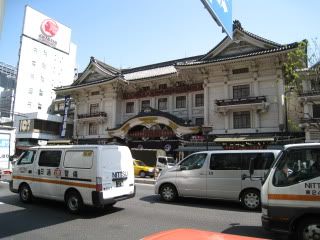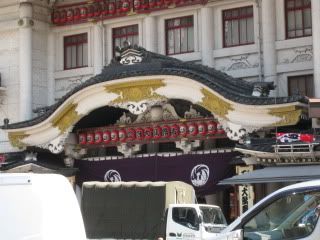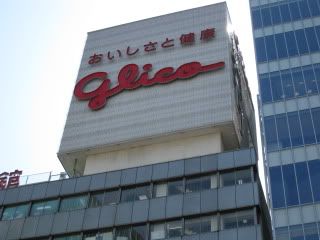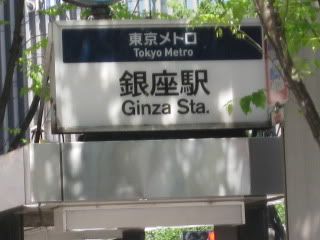 Yup, its Ginza. Ginza is somewhat like Omotesando, featuring high end shopping and such.


After which it was all return trips to Akihabara and Shibuya for shopping.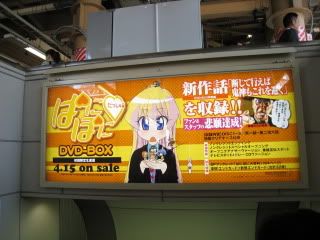 A vending machine which dispenses newspaper.... o.0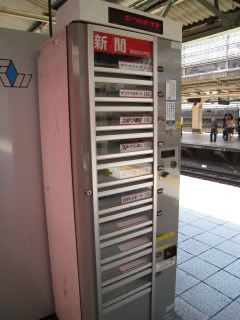 Life-size evangelion ladies, all to celebrate the release of the new pachinko game for eva.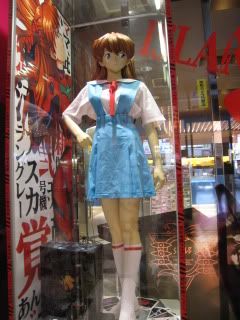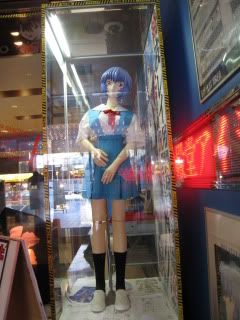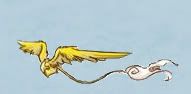 Existing the story...
Friday, 22 May 2009
Day 5 - 27 April
After a fruitful Touhou Harvest in Akihabara, Ivan and I decide to take it easy for that day. We went over to the other side of Ikebukuro, Sunshine City(60) for some indoor exploring.
Sunshine City is in fact 60 stories high, thus its nicname Sunshine60. Just recently that I learnt that this building was the place which my SGCafe friends Karei and Tenma stayed during each of their trip to Japan.
So what's so special about Sunshine city, its actually a Metropolitan by itself, complete with a hotel and an indoor theme park. However, we didn't enter play the theme park games, instead, we went there for a sole purpose, that is to EAT XD.
Namjatown, the theme park within Sunshine60
What's so special about Namjatown is that every attraction they offer will have different variety from various countries.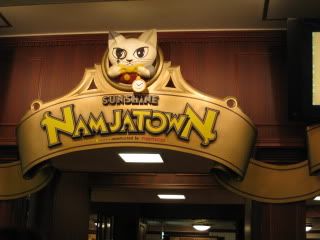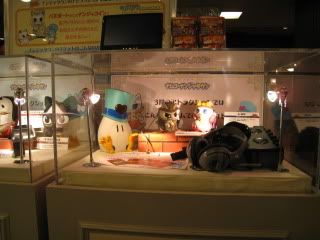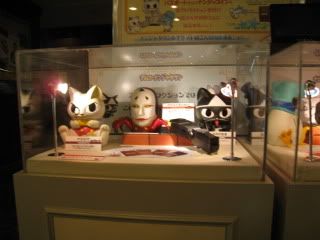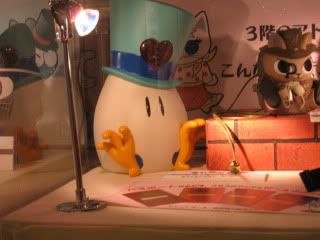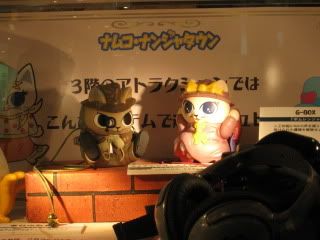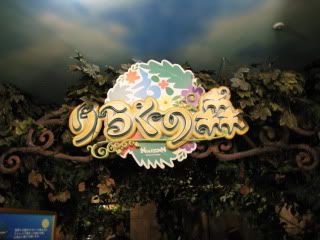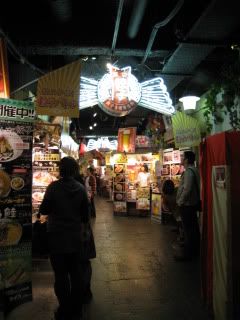 For lunch, we had awesome Gyoza XD
In this Gyoza alley, you can sample awesome taste from different countries which gyozas are offered, mainly Chinese gyozas, Neo-mandarin gyozas and Japanese gyozas.
Then after lunch, we head off to another food sector.
Ice Cream City. Like the Gyoza alley, Ice Crean City offers ice cream from different countries like Turkish ice cream, Italian Gelato, Taiwan shaved ice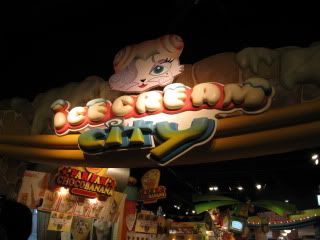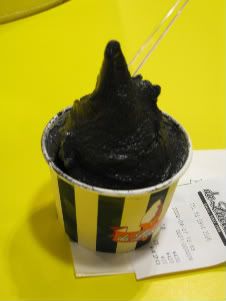 NERO - Black sesame Ice cream, gelato in fact XD


So after a hearty lunch with dessert, we head off to Otome Road which we couldn't comb the night before. I managed to buy a few more touhou items there.
Once more we returned to Shinjuku for further exploring since the night which we went to Shinjuku was for some night activities and couldn't explore much of Shinjuku.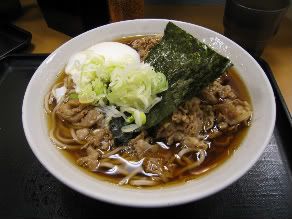 Beef Soba Xd Nice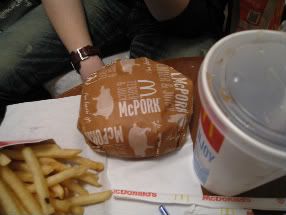 McPork, can never find it here XD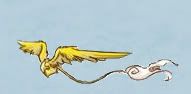 Existing the story...
Taking a "break" from my Japan trip recollections, I shall blog about something else.
Today, was my long awaited Graduation Ceremony.
Finally, through sweat, tears and occasional mood swings, I finally get to hold on to my Diploma.
Somehow or another, it sort of had this nostalgia feeling once more, like how I was sitting anxiously waiting to receive my O Level cert.
However, this time round I was sited in between two extremely "high" ladies so through the ceremony. Thanks to them, there was never a dull moment throughout the whole ceremony.
Today, it made me realised truly what the phrase "Time waits for no man" means.
It felt so yesterday that I enrolled into TP, going through all the fun filled times and I'll never forget my Year 1 HAP (Human Anatomy and Physiology) lecturer, Mr Low aka Mario's awesome joke about sperms.
Somehow feelings of regret start to rush in me the moment I flagged a taxi to rush back home.
It felt like its the "end of the world" and many things that could have been done yet I chose no to.
Again, I missed my chance to do what my sub-consciousness is telling me to do.
*Blame it on my super low self-esteem aka inferior complex.
Leaving the emoing one side, why I said it was nostalgic because right after all the photo taking, I rush home to get refreshed and immediately went straight out to meet with Yuxuan, Adenlyn, Weng Tat, Eric, Yan Hao, Alferd and Anil to play L4D. Much like how I spent my time straight after collecting my O levels cert.
It was my first time playing L4D with real people, instead if AIs, and its very fun.
So after 2 hours of LAN gaming, we head off to Thai Express for some late night dinner and I brought along my Ichigo-Choco mochi to share.
Time really flies..... Two more weeks till my isolated island life.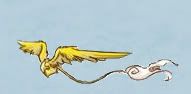 Existing the story...
Thursday, 14 May 2009
Day 4 - 26 April, Sunday
Finally the long awaited day of the trip. The day where I visited the Land of Otaku - Akihabara aka Akiba for short. The place is blooming with your anime CDs, manga books, doujin books, merchandises, games and Meido services such as meido cafe/massage.
My wallet instantly BANKAI-ed that day.
That morning, Hafiz and fellow collage, Song Te managed to catch us via phone call before Ivan and I left for Akiba. Kinda lucky that we can go to Akiba together.
While on the way to the Tokyo Anime Tower, the place where many small conventions are held, I managed to take a shot of the awesome buildings there.


Spice and Wolf Swing, found at the convention held in the Tower.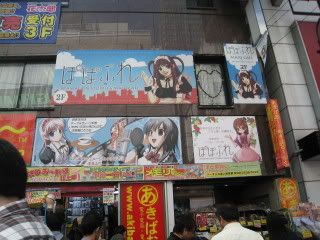 Meido Cafe (Maid cafe). Too bad it isn't the one I went to.

Chio Bu is Chio. XP LOL jokes.
The day for Akiba is pretty much simple. Hafiz, Ivan went together for their own type of shopping spree, Song Te went to search for his comp parts.
As for me, I was on my Touhou shopping spree and I totally spent all my 65K yen, which I set aside since Day 1 for Akiba.
Why Touhou? Simple. Mainstream anime merchandises are easily available through the internet or local retailers. Its the doujin stuffs that are not found here in Singapore.

For lunch, Hafiz, Ivan and I went to this famous Meido Cafe, @Home cafe.
Too bad no photography is allowed in the cafe so I cant take any pics of the cute Omelet rice I ordered. But I did purchase their special combo - main course + drink + photo service.
The waitresses there are very pretty, cladded their french maid costume, especially the lady who served us, Ichigo-chan.
Though physically Ichigo-chan isnt the most prettiest there, her smile is the most radiant, which made her stand out the most.
Took a photo with her for keepsake. Aint gonna post here. Mwuhahahahahaha...
Oh there's one Guy working there, which is something you dont see often in Meido cafe. Plus he's those bushie type (for a male to say another male being handsome, they mean it, so believe it)
One thing I realised in Japan, point cards are pretty much a common thing. Almost all the stores/shops I visited have their own point card system. So for this particular Meido cafe, their card is something which amused me alot.
The design resembles the Amercian Express card, except it has this cute anime maid profile in the center, plus it has this level system which the customer "rank up" upon the 5th visit.
I'm still a level 1 "master" need 4 more visits.. ><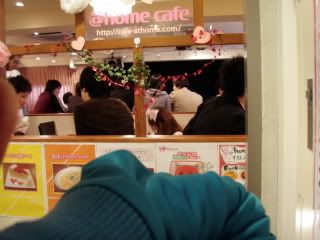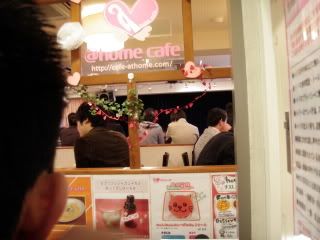 After lunch, I continue my Touhou shopping spree until evening when we left for another anime related place, Otome Road in Ikebukuro. Sadly, by the time we reached there, its closed for the night, which is puzzling as the whole stretch of road will close at 8.30pm Tokyo time.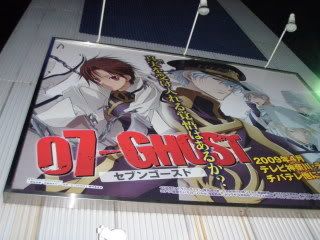 Actually for Akiba, I only managed to comb the main street plus one portion of the side. Must dedicate 3 or 4 days in Akiba the next time I go to Tokyo again.
Oh, if you wanna know how much items I bought, its one luggage full XD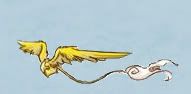 Existing the story...
Friday, 8 May 2009
Day 3 - 25 April

Had instant noodles for breakfast.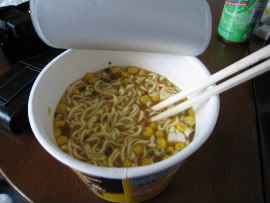 Went to Odaiba with Ivan and his aunt's friend, Sanae-chan. She gave me some high quality tea and some awesome desserts, even treated both of us a whole day worth of meal. ><
Felt a bit paiseh....

Hamburgur set.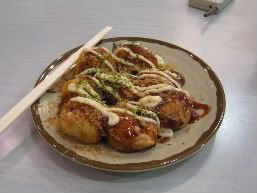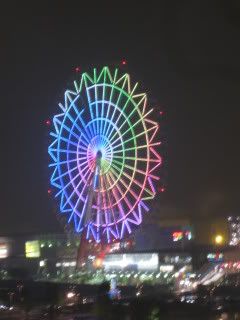 Ferris wheel of Tokyo, 3rd largest in the world but I have to agree with Ivan, even the world largest, SG Flyer cant even beat this wheel in terms of Beauty.
Rainbow Bridge and a mini Statue of Liberity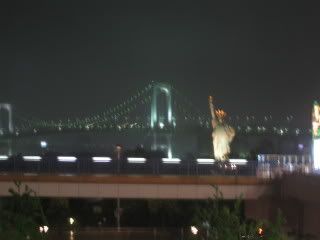 The famous Fuji TV station featured in my childhood fav anime Digimon.
Odaiba is an awesome place to visit, being a tourist attraction also housing some of the nicer sceneries in Tokyo. Too bad it was raining that day, so didnt get to have much shots.
That place is just on the banks of the Tokyo bay, so the shopping buildings there have ship based names like "the Deck", "The portside" etc.
One special thing about Odaiba is that they have this indoor amusment park, a floor full of games which promote healthy excercise, a place mimicking Hong Kong aka Little Hong Kong and a place designed with the olden days flavour like those steel playground, sandpit etc.
The last place even have the air gun game which uses normal, antique looking air gun and corks as ammo.
I really enjoyed the fun times in Odaiba and it is one of the must go places.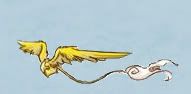 Existing the story...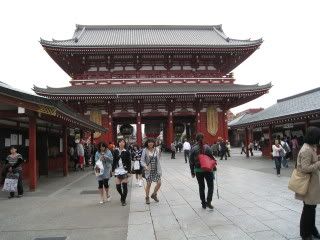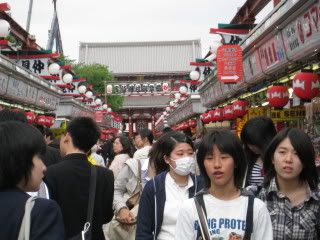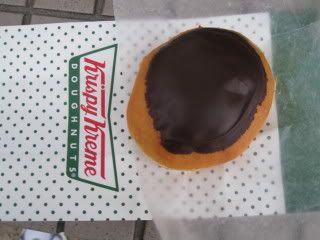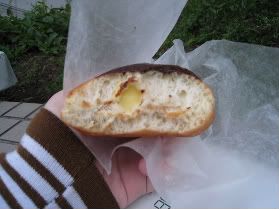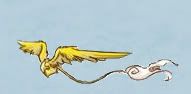 Existing the story...
Sunday, 3 May 2009
Both Ivan and me made a trip down to Asakusa to find our manga sensei, Hafiz, whose lodging is in a private dorm, and also to visit the Asakusa Shrine. Due to some my photos being too big, I'll only upload a few pics from now on.
While at the shrine, I never would have guessed that "this" is still there.
Yup, its Sakura. Before I left for this trip, when I saw the snapshot of Tokyo in the newspaper, I thought to myself that I have already missed the season. It seems like lady luck is by my side as I managed to see Sakura in late bloom period in the shrine and along a river which wind through Asakusa area.
However the search for our manga sensei is not going well. Again lady luck has not forsaken us, we visited this internet cafe and bought ourselves 15 minutes online time. The shopowner was very helpful and aided us in finding the private dorm, and we successfully met up with Hafiz.
Then its off to Ueno for some shopping. Bought a pack of Yugioh GOLD series and I got foil Jinzo and foil Mirror-force. We loitered around until its time to head over to Shinkuju for some night activity.
While in Shinjuku, I tried out this awesome doughnut from Krispy Kreme Doughnuts & Coffee.
The Krispy Kreme doughnuts is a MUST TRY. Located opposite to Takashimaya Time Square, Shinjuku. The queue is usually 20-40 minutes long. But their service is awesome.
In order to keep the customers, they give away free doughnuts, fresh from the oven.The sugar glazed doughnut felt warm in the chilly evening spring winds and warm doughnuts felt so soft, like marshmallow. >////<
The glazing made the outside feel crunchy while the soft fluffy inside is heavenly.
The doughnut help to keep me warm while waiting for Hafiz.
Treated to tonkatsu for dinner by Ivan's Ojisan and after dinner we (including Hafiz and another of his friend, Song De) head over to the nightlife of Shinjuku.
After the activity there, both Ivan and me managed to catch the last train back to Ikebukuro and I swear, from all that rushing and running, its the only time whcih I sweat that much.
Shall blog about other days soon.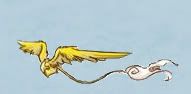 Existing the story...
Saturday, 2 May 2009
Two days after I came back from Japan.... The trip was fun. Lots of things to see, lots of nice foods to eat, lots of awesome things to buy. Here's a little recording I've done during my free time before I sleep everyday there.
Arrived in the Narita Airport after 9 hours of flight, including transit. Bought the train card (Suica card) and the N.E.X express train ticket to my motel in Ikebukuro.
Ikebukuro is the 3rd busiest train station in the Yamamote Line, which is a oval-shaped line housing major stations for tourists, like Toyko, Akihabara, Shinjuku, Harajuku and Shibuya.
1st major brick-shitting experience - Although my SIM card has Auto-roaming, my phone cant detect any signal, and my phone charger cant work there in the motel while my cam and psp charger works well.
Asked the motel manager about the issue first thing in the morning and he gave me and my friend (Ivan) a number for international call. Luckly it works and I managed to call back home. *sigh of relieve...
1st stop for the day is Shibuya. Its like your normal shopping district, typical city shops are there. Visited this shop called Mandarake, its a 2nd hand store which deals with anime goods/toys and manga/doujins. Bought my first Touhou card game there and I was surprised that they even sell official touhou games by ZUN.
Then, we walked to Harajuku, on the way there we pass by the NHK boardcasting station
We also went into the Meji shrine at the edge of Harajuku before actually entering Harajuku.
Next is Harajuku, the place where you get your punk/goth garments. Bought myself a long sleeve shirt with hoody and picked up a present for my brother, a set of punk hoody and shirt combo.
As fun as it was shopping there, I experienced some irritation there in Harajuku. Along the streets, there will always be Nigerians trying to push for customers. Not to be racist or have anything against them but I just dont like their method of doing business. They keep pestering people who wore simple attire like a t-shirt, sweater and jeans. Everything one of them will try and force me into their shops and the stocks they have are easily available in Bugis street.
Way too pushy...

Well, after shopping at Harajuku, we walked to Ometosando. That place is for the high-end shopping. One of this special building there is the Ometosando Hills, its a long building will beautiful interior and houses very classy shops like your LV. Took pics of this classic stairway, as it was once used as a walkway for a fashion show.

So after Ometosando Hills, both me and my friend visited this departmantal store named "Kiddyland" and I was surprised to find Yugioh Duel Terminal 5 there. Play 11 rounds just to get the cards and lucky me, I got the fetured card of that machine.

In "Kiddyland" they also have pokemon plushies for sale and I bought a Togekiss plushie as a prop for my future cosplay plan for 2010.


Found this familiar shop will walking back to Harajuku station from Ometosando, to take the JR line back to my motel in Ikebukuro.
After placing our items in our room, we head out the the busier side of Ikebukuro station. Its like another of your shopping district over at that side. The UFO catcher there is very different from the ones in Singapore. The latter ones just randomly dump the toys and let you randomly catch. The former ones actually are puzzle based, like suspending the toys using horizontal metal rods to hold them and to get the toy, conventional grabing with the pincer will not work. Sometimes one need to trip the toy to make it lean or even fall, sometimes might even need pressing using the base of the pincer machine.
I managed to catch a Nagisa toy while Ivan caught Kyou, a big Chopper and a Asuka. He gave me the Kyou figure to complete the set. XD
Well that's all for day 1.
GTG, will post more soon.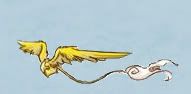 Existing the story...