Sunday, 20 December 2009
New job, new place, new deck and new present. XD
Graduated from school last Friday. All the time I spent there would stay in my memories.
"Partings are not the end of the road. Partings mark the beginning of a new path and are promises to meet in the future."
Gotten a new job, been working in a clinic for the week.
Learnt lots of new things and made some friends there.
Well, some as it's just a small clinic.
Did my very first out-of-clinic job yesterday but it caused me my slot in the Haruhi Trial deck tournament held in TCG during the afternoon as the "job" dragged till late morning/noon.
For consolations, I get to test out my very own Haruhi Trial deck with Wayne.
The X'mas gift exchange party in Invinc's house was kinda awesome.
I goot the latest edition of "Newtype" as my gift.
Thanks Lockie XD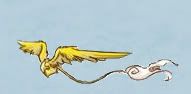 Existing the story...