Sunday, 1 November 2009
The next time some Joker call Trading card games as gambling, I'll bitch slap that bugger.
Seriously...
As an avid TCG player, my pride has been trampled upon by that unreasonable stereotyping.
Here's the story.
During break time at my work place, my college and I were dueling in Yugioh aka "A children's card game".
Then a bugger pops in and said in a tone full of authority
"Gambling is it? OT no Kick ar? Want more projects?"
Its like WTF!
Firstly, for gambling, you DONT lay down your cards onto the table in a specific manner. In fact you hardly show what you have to your opponent.
Secondly, playing cards do NOT have colourful pictures of fantasy beings. Let alone foils and holographic prints.
Lastly, do gamblers gamble with two decks, using sleeves to protect the cards? F NO!
I really HATE it as both my previous work place and the current one, all my managers equate
Anime = Hentai
Manga = Pictorial Porn
TCGs = Gambling
Cosplay = Sex
There's a limit to all ignorance but for them, its like endless.
They had just proven how shallow their mental cognition are. As it seems so true...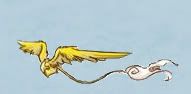 Existing the story...