Sunday, 15 November 2009
Having test after test doesn't seems half bad after all.
Earned myself a day off on Friday, which I spent on watching the Evangelion movie, modifying my Yugioh and WS decks.
The movie is SWEET!
Lots of new details drawn, lots of changes and best of all, a whole new take on the traditional story.
Another week is coming to an end. Another day closer to AFA.
Yet another hour closer to the dreaded duty.....
I'll just hope for the best possible future for me on those days.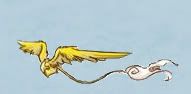 Existing the story...