Monday, 23 November 2009
At midst the time of impending doom, the light shines at its brightest.
Right after my 24 hour Duty, I kinda rushed home to bathe and wash my clothings. All to prepare for the big day ahead.
AFA09 is simply too awesome.
Although I missed Day 1 due to duty, what I experienced in Day 2 is beyond words.
Spent almost 100 on merchandises solely and I dare to say I'm not regretting.
Limited promo stuffs are still the best XD.
Never had I though that I could stay and enjoy the concert finale of AFA09.
Never had I expect May'N and Yoshiki Fukuyama to perform a acoustic guitar duet version of Diamond Crevasse.
Its just too awesome. XD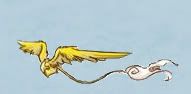 Existing the story...