Sunday, 4 October 2009
Woots.
The dashboard is back to normal.
Been quite a while since I last blogged.
Last week I had awesome ice cream feast at Swensen's in Orchard. 15 scoopes of desserts, 1 slice of oreo cheese cake, 1 slice of peach pie and 1/2 a waffle.
Learnt many things in camp, encountered my 1st ever GD and passed a test.
Yesterday went back to TP to collect my stuffs from my friend whom recently went to Japan.
After which I joined the rest of my cafe family for an awesome BBQ at ECP, though I had to leave early due to the need to study for my up coming tests next week.
Hope I can pass........
As of current, I have a total of 4 Weiβ Schwarz decks. XD LOL
1 Fate/Stay Night Trial deck
1 Lucky Star - School Infirmary deck
1 Lucky Star - Otaku/ Konata family deck
1 Lucky Star splice Clannad - Twin deck
Hur.... Gonna Blazblue now..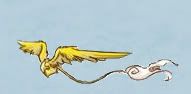 Existing the story...