Saturday, 10 October 2009
The past week in camp is kinda interesting.
Got to learn lots of new stuffs which I had previously took no interest in.
The more weeks I spent in this current course, the more I felt that I'm a lucky guy.
Such skills, knowledge can never be learnt in society FOC.
However like the saying "Thorn among the roses" goes, some unhappy event happened and it dampened the morale...
Lesson learnt - "Privileges are not Entitlement"
Now back to my usual topics, currently I'm trying to get my copy of Disgaea 2 on PSP.
Oh and having to start frequenting AMK hub, I find Funzcentre a nice place to kill time/shop.
They have all sorts of Japan imported games and merchandises. The shop even sells "Portals of Three Kingdom" cards, a Magic: The Gathering booster expansion featuring the Romance of the three Kingdom, old Yugioh boosters and Hatsune Miku song tracks.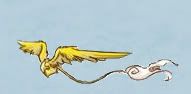 Existing the story...