Sunday, 25 October 2009
One shot one kill.
Thanks buddy for being my confidence booster.

Here's something I realised about myself through last week's experience.
I can't handle stress, my mind just blanked out when I saw my invigilator's face.

Sigh.... Pathetic me....



On the lighter note, my mum and sis are going for a trip to Malaysia on AFA week.
Since I could't go due to my course, I would be getting 300 bucks. XD
Just in time for AFA spending.
I'm gonna whore at the Weiβ Schwarz section while i guess most of my sgcafer friends would be drooling at the "Moe Moe Kyun" meido cafe.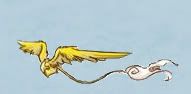 Existing the story...