Sunday, 18 October 2009
Last week was a stressful one.
The pressure of the main role....
The pressure of multiple failed attempts....
Its an overkill...
I'm already at my limit.....
What more do they want from me?
Every week, I endure...
As I know at the end, I get to spend fun time with you all...
But can I keep up with this?
My vision turned crimson.
My soul yearned to scream.
For it seemed that I had lost my view of serenity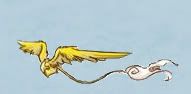 Existing the story...