Friday, 18 September 2009
24 Click march is fun but exhausting.
Parade is awesome. XD
Gotten the vocation which I kinda expected to get.
"Life first"
Shall live by that.
Quote from my JCG senior Wei Lee,
"i believe u got a case of malingering, i would suggest a prescription of honesty"
"if there are side effects, perhaps a prescription of 2 weeks in db"
Recently I gotten a new interest in a certian card game,
Weiβ Schwarz
Its a game which brings in possible anime/manga characters together.
Imagine Fate/ Stay Night vs Lucky Star
Imagine Nanoha vs Little Busters
Kinda cool and interesting to play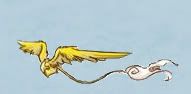 Existing the story...