Sunday, 23 August 2009
This year's Natsu Matsuri is fun. Get to meet many of my friends whom I rarely have the chance to chill out with now.
The food queue is as long as ever, lucky I got myself a nice bento. Thx Furt.
Later in the festive, the main event - Bon Odori dance, was uber enjoyable.
It has been almost three months since I last danced together with my crew and the feeling is indescribable
Had a mini Blazblue session just now with Xeth, Akatsuki, Broken, XkosmosX and Tohru.
Awesome chill is awesomely chill.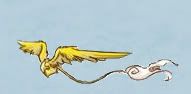 Existing the story...