Sunday, 2 August 2009
Raw data - 7 more weeks till Passing Out Parade (POP)
1 week field camp
Last week not counted
Final data - 5 more weeks till POP
Kinda worried and anxious for the field camp.
I was seriously damn stressed out during book out today due to lack of time for me to pack stuffs.
Till the point of near-breaking down.....
Wonder is it self-inflicted as I hate getting punished. Who likes punishment anyway....
Seriously, I want this coming week to pass as quickly as possible even though it used to be a week I looked forward to in the past.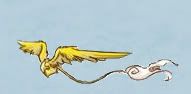 Existing the story...