Monday, 10 August 2009
Lots of things happened this week.
2 Family wishes
5 SMS wishes
16 SGCafe wishes
46 Gryphon Platoon 4 wishes
3 Outfield wishes
This year's birthday is indeed a memorable one.
Its the first and I hope the only birthday which I had to spend a day in my outfield gears.
Its also that day which I had a chance to chat with Selwyn (he also attended the same outfield as me) whom I thought to have lost contact with.
This week is also the week which I experience my first ever confinement which like the outfield case, hope to be the last.
Yesterday's NDP was something fresh. Take the parade for example, some commands were omitted as the contingents follow the beats of the drums.
Today, I went to Sentosa with Xeth, Akatsuki and Tenma. Needed some breather as since cosfest, I had spent all my book out times at home, mostly due to fever, H1N1 and lack of "hang-out" mates.
Tenma's cooking is awesome and Xeth's Yakult surprise is as refreshing as ever.
POP is drawing near. Cant wait for it.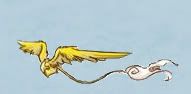 Existing the story...