Friday, 17 July 2009
Cosfest09 was as usual, AWESOME.
Saw lots of good cosplays.
Too bad at that time I had to book into camp so no cam with me.
This year's cosfest is more of a game cosplay for me as most of the nice cosplays are from games, like Dissidia and Touhou.
The Jetcth is pure winz.
Ish waiting for my arcade stick so I can blazblue for the next 7 days.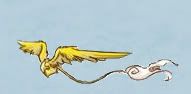 Existing the story...