Sunday, 28 June 2009
Lots of things happened this week while I was away from the internet.
Stuffs like epic TCSS sessions I had with my bunkmates, it was so fun that I swear I'll slim down with that amount of laughter everyday.
Yesterday was the SHINE MASCOT PARADE at Ngee Ann city.
Took the chance to meet up with some cosplayers whom I know.
Most of the reaction are the same like "OMG you look darker.." LOL ><
The scene filled with costumes and props felt really nostalgia.
The rocking beats of the band performances, the familiar tunes, the soothing melodies.....
Next weekend is TGX'09 and the weekend after is Cosfest.
Really hope that nothing screws up for the next two weeks.....
Every weekend felt so busy, so packed now.
Like - my schedule for next sat is collect my grad photos, buy my PS3 and my Blazblue game, visit TGX. Sunday is for rushing anime and manga before I book in.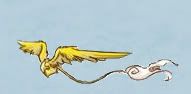 Existing the story...