Friday, 5 June 2009
In just a few hours time I shall start a new chapter of my life.
Most probably a life changing one, especially in terms of lifestyle and time management.
Gonna learn lots of new things and forgetting lots of old stuffs. Like much seniors said, this two years is enough to reformat half of my cranium and bad sector the other half.
Two years.... Will time flies fast or will it just float lazily pass my hectic/systematic life.
On the bright side, I finally have enough money to invest in a home console system.
Kinda psycho-ed my sis to sponsor half of the cost of the console unit, thanks to Final Fantasy XIII series.
Soon, I need not buy tokens from the arcade to train my Blazblue.
All I need is just 1 ps3, Blazblue game, 2 joy-pads and a HD-TV.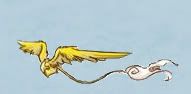 Existing the story...