Thursday, 4 June 2009
Found an awesome game that is worthy of my time in the arcade - Blazblue.


http://blazblue.jp/


Though the game is like out for a long time, its only 3 days ago that I started to have the feel of playing it.
Currently I'm training Rachel Alucard, a vampire.

http://blazblue.jp/rachel.html


Since the game is by arcsystem, the creators of Guilty Gear (GG) and Arcana Hearts, one might thing that Rachel is the spiritual successor of Slayer from GG.
However, after having observed my forum friends playing the game and a couple of credits wasted on finding a noob combo, Rachel isn't a heavy/fast hitter.
Instead, she resembles "The Emperor" from Dissidia: Final Fantasy in a way where both utilise traps to keep the opponent under pressure and help as combo links or set up for combo.

So after 3 days and 8 credits, I can safely say that my current level is arcade stage 5, with stage 10 being the final boss and I managed to pull off the first part of a series of BnB combo.
Here's the video for easier explaination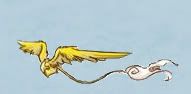 Existing the story...