Saturday, 2 May 2009
Two days after I came back from Japan.... The trip was fun. Lots of things to see, lots of nice foods to eat, lots of awesome things to buy. Here's a little recording I've done during my free time before I sleep everyday there.
Arrived in the Narita Airport after 9 hours of flight, including transit. Bought the train card (Suica card) and the N.E.X express train ticket to my motel in Ikebukuro.
Ikebukuro is the 3rd busiest train station in the Yamamote Line, which is a oval-shaped line housing major stations for tourists, like Toyko, Akihabara, Shinjuku, Harajuku and Shibuya.
1st major brick-shitting experience - Although my SIM card has Auto-roaming, my phone cant detect any signal, and my phone charger cant work there in the motel while my cam and psp charger works well.
Asked the motel manager about the issue first thing in the morning and he gave me and my friend (Ivan) a number for international call. Luckly it works and I managed to call back home. *sigh of relieve...
1st stop for the day is Shibuya. Its like your normal shopping district, typical city shops are there. Visited this shop called Mandarake, its a 2nd hand store which deals with anime goods/toys and manga/doujins. Bought my first Touhou card game there and I was surprised that they even sell official touhou games by ZUN.
Then, we walked to Harajuku, on the way there we pass by the NHK boardcasting station
We also went into the Meji shrine at the edge of Harajuku before actually entering Harajuku.
Next is Harajuku, the place where you get your punk/goth garments. Bought myself a long sleeve shirt with hoody and picked up a present for my brother, a set of punk hoody and shirt combo.
As fun as it was shopping there, I experienced some irritation there in Harajuku. Along the streets, there will always be Nigerians trying to push for customers. Not to be racist or have anything against them but I just dont like their method of doing business. They keep pestering people who wore simple attire like a t-shirt, sweater and jeans. Everything one of them will try and force me into their shops and the stocks they have are easily available in Bugis street.
Way too pushy...

Well, after shopping at Harajuku, we walked to Ometosando. That place is for the high-end shopping. One of this special building there is the Ometosando Hills, its a long building will beautiful interior and houses very classy shops like your LV. Took pics of this classic stairway, as it was once used as a walkway for a fashion show.

So after Ometosando Hills, both me and my friend visited this departmantal store named "Kiddyland" and I was surprised to find Yugioh Duel Terminal 5 there. Play 11 rounds just to get the cards and lucky me, I got the fetured card of that machine.

In "Kiddyland" they also have pokemon plushies for sale and I bought a Togekiss plushie as a prop for my future cosplay plan for 2010.


Found this familiar shop will walking back to Harajuku station from Ometosando, to take the JR line back to my motel in Ikebukuro.
After placing our items in our room, we head out the the busier side of Ikebukuro station. Its like another of your shopping district over at that side. The UFO catcher there is very different from the ones in Singapore. The latter ones just randomly dump the toys and let you randomly catch. The former ones actually are puzzle based, like suspending the toys using horizontal metal rods to hold them and to get the toy, conventional grabing with the pincer will not work. Sometimes one need to trip the toy to make it lean or even fall, sometimes might even need pressing using the base of the pincer machine.
I managed to catch a Nagisa toy while Ivan caught Kyou, a big Chopper and a Asuka. He gave me the Kyou figure to complete the set. XD
Well that's all for day 1.
GTG, will post more soon.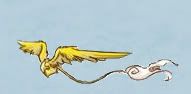 Existing the story...