Friday, 22 May 2009
Taking a "break" from my Japan trip recollections, I shall blog about something else.
Today, was my long awaited Graduation Ceremony.
Finally, through sweat, tears and occasional mood swings, I finally get to hold on to my Diploma.
Somehow or another, it sort of had this nostalgia feeling once more, like how I was sitting anxiously waiting to receive my O Level cert.
However, this time round I was sited in between two extremely "high" ladies so through the ceremony. Thanks to them, there was never a dull moment throughout the whole ceremony.
Today, it made me realised truly what the phrase "Time waits for no man" means.
It felt so yesterday that I enrolled into TP, going through all the fun filled times and I'll never forget my Year 1 HAP (Human Anatomy and Physiology) lecturer, Mr Low aka Mario's awesome joke about sperms.
Somehow feelings of regret start to rush in me the moment I flagged a taxi to rush back home.
It felt like its the "end of the world" and many things that could have been done yet I chose no to.
Again, I missed my chance to do what my sub-consciousness is telling me to do.
*Blame it on my super low self-esteem aka inferior complex.
Leaving the emoing one side, why I said it was nostalgic because right after all the photo taking, I rush home to get refreshed and immediately went straight out to meet with Yuxuan, Adenlyn, Weng Tat, Eric, Yan Hao, Alferd and Anil to play L4D. Much like how I spent my time straight after collecting my O levels cert.
It was my first time playing L4D with real people, instead if AIs, and its very fun.
So after 2 hours of LAN gaming, we head off to Thai Express for some late night dinner and I brought along my Ichigo-Choco mochi to share.
Time really flies..... Two more weeks till my isolated island life.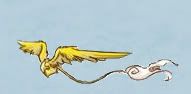 Existing the story...