Thursday, 14 May 2009
Day 4 - 26 April, Sunday
Finally the long awaited day of the trip. The day where I visited the Land of Otaku - Akihabara aka Akiba for short. The place is blooming with your anime CDs, manga books, doujin books, merchandises, games and Meido services such as meido cafe/massage.
My wallet instantly BANKAI-ed that day.
That morning, Hafiz and fellow collage, Song Te managed to catch us via phone call before Ivan and I left for Akiba. Kinda lucky that we can go to Akiba together.
While on the way to the Tokyo Anime Tower, the place where many small conventions are held, I managed to take a shot of the awesome buildings there.


Spice and Wolf Swing, found at the convention held in the Tower.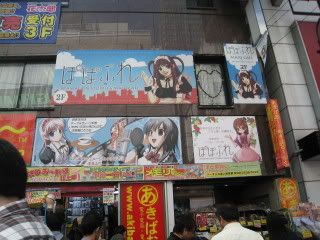 Meido Cafe (Maid cafe). Too bad it isn't the one I went to.

Chio Bu is Chio. XP LOL jokes.
The day for Akiba is pretty much simple. Hafiz, Ivan went together for their own type of shopping spree, Song Te went to search for his comp parts.
As for me, I was on my Touhou shopping spree and I totally spent all my 65K yen, which I set aside since Day 1 for Akiba.
Why Touhou? Simple. Mainstream anime merchandises are easily available through the internet or local retailers. Its the doujin stuffs that are not found here in Singapore.

For lunch, Hafiz, Ivan and I went to this famous Meido Cafe, @Home cafe.
Too bad no photography is allowed in the cafe so I cant take any pics of the cute Omelet rice I ordered. But I did purchase their special combo - main course + drink + photo service.
The waitresses there are very pretty, cladded their french maid costume, especially the lady who served us, Ichigo-chan.
Though physically Ichigo-chan isnt the most prettiest there, her smile is the most radiant, which made her stand out the most.
Took a photo with her for keepsake. Aint gonna post here. Mwuhahahahahaha...
Oh there's one Guy working there, which is something you dont see often in Meido cafe. Plus he's those bushie type (for a male to say another male being handsome, they mean it, so believe it)
One thing I realised in Japan, point cards are pretty much a common thing. Almost all the stores/shops I visited have their own point card system. So for this particular Meido cafe, their card is something which amused me alot.
The design resembles the Amercian Express card, except it has this cute anime maid profile in the center, plus it has this level system which the customer "rank up" upon the 5th visit.
I'm still a level 1 "master" need 4 more visits.. ><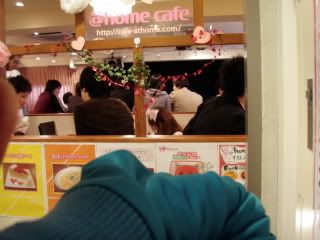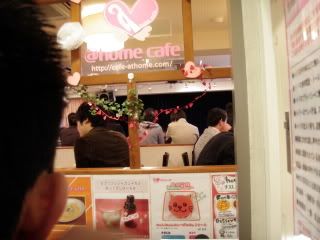 After lunch, I continue my Touhou shopping spree until evening when we left for another anime related place, Otome Road in Ikebukuro. Sadly, by the time we reached there, its closed for the night, which is puzzling as the whole stretch of road will close at 8.30pm Tokyo time.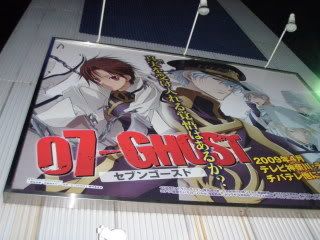 Actually for Akiba, I only managed to comb the main street plus one portion of the side. Must dedicate 3 or 4 days in Akiba the next time I go to Tokyo again.
Oh, if you wanna know how much items I bought, its one luggage full XD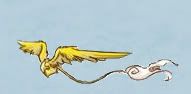 Existing the story...