Thursday, 2 April 2009
Well, hi people...
Some Joker is here to post about Kurobara, 4 Days after the event ended....
The dance item on that day was freaking fun.
No doubt dancing in full Mosca mask is killer, but its awesome.
Only did one mistake during Cruel Angel Thesis, luckly my "Quick change" saved me.
Cirno's perfect maths class was cracked, by far the most fun dace ever.
KIRA~! With my Lab coat+ Cotton gloves+ Flowers + Mosca mask.
In the balance of Ying and Yang, there's always happy and sad events.
Something happened today that made me ponder on "What happened, if it was me there"
Being someone who didnt even have the guts to express it out.....
Somethings in the world isn't meant for me, and I'm sure it is one of them.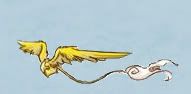 Existing the story...