Sunday, 19 April 2009
Shall post a few mandarin songs, since there was a period of time I was into mandarin pop, and thanks to the KTV session, the feeling of listening these songs are back.
*pardon for some vids being KTV version.
Forever Love - 王力宏
Kiss Goodbye - 王力宏
唯一 - 王力宏
王力宏's songs are the ones that accompany me throughout my Secondary School days so yar, they are like part of my teenage days.
其實不想走 - 周華健
haha, this one is special. I had heard albums of 周華健's songs during my primary school days. Songs like 花心was once my fav =).
Now is the special part - during my sec sch days, there was this one gathering of my P5/6 class in my P5 form teacher's house. That was when he played KTVs of 周華健. At that time, i guess, it was only me and my best friend, Jerold Wong sang along. XP
真爱 - 183 Club
Ah, 真爱. It's the song I spammed during my O Levels. Didnt really like the song at first but since my Mum and Sis were like watching the drama (that made this song famous), I kinda caught on to the soothing yet upbeat melody.
张韶涵 - 真的

This one is also another special one. Its the ending song for another Taiwanese drama which I totally ditched when it first aired on Channel 8. It was when the rerun during the evening, around 5-6pm that I stayed to watch the drama while waiting for my dinner to be ready. Like 真爱, it caught my attention after a few eps of the show.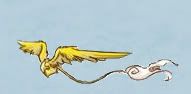 Existing the story...