Sunday, 19 April 2009
Friday's KTV was crackpot awesome.
Seclected some oldies to spam and a special song from Dragonball Z. XD
Dont really know the romaji so me and my friend waited for the chorus and performed the Lucky Star version of the chorus. Freaking awesome XD.
Luckly, the few rounds of practises the night before paid off, managed to sing those songs without going off tune nor forgetting the lyrics.
I feel poor now. QAQ
Changed 3k SGD into Yen....
POOR~!
T.T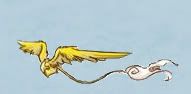 Existing the story...