Friday, 3 April 2009
Found some awesome vid on youtube while searching for my daily Touhou tidbits.
Imagine 90's pop song X doujin game that transends the 20th and the 21st century.

Product, this - Touhou - As Long As You Love Me



On the side note, now I know why Devil admire BSB for their solid performances everytime.
Here's another nice vid.
Touhou You (東方you) [1TG]


Basically this video is more of a sad tone as it depicts what would happen if all the human, half-human, non-immortal youkai fade away into the memories of others.
But then again, there's always a happy ending in Touhou, since the god Zun himself had already created places like the nether world, hell, former hell etc. So in the end, its still one big happy family... LOL sounds uber cheesy but you get the picture..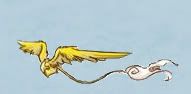 Existing the story...