Sunday, 22 March 2009
After P is always E.
Why
Simple, Politics are everywhere.
However, through politics, for self-perseverance, I have grown many masks.
Nothing much happened this few weeks, as I'm busy.
Yes, I'm a busy person.
Cosplay wise, confirmed doing Kuraz, the Light Monarch from Yugioh card game and Togekiss (human fan art) for next year cosfest.
This year's EOY might be my final take on Gola Mosca, white suit version. He's my pride and joy, the one that help me earn recognition from fellow cosplayers as well as KHR fans.
Maybe next year's SOY can do fake Gyojo or fake Goku from Gensoumaden Saiyuki, depending on my 15 weeks of hell's result.
No plans for this year's cosfest, since majority of my funds will be channeled for my planned trip to Japan, plus my royal decree has yet to arrive
Dance wise, mastered quite a few songs as well as polished up old routines.
6 more days to Kurobara.
Randoming now..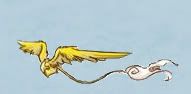 Existing the story...