Sunday, 11 January 2009
Awesome week for me XD
I finally completed my task for the internship.
It has been at least 4 months since I started to work on that task.
When I initialed and signed the documents for the last batch, a feeling of relief surged through me.
Its like "Finally! Its over!"
Also I upgraded my psp memory stick to 8GB XD
Lastly, if my calculations are correct, once I recieved my pay for this last month of internship, I'll have 3k on hand XD
Planning to go and join my CCA senior and a junior for their trip to Japan this coming spring.
SAKURA~! AKIBA~! NIPPON~! BANZAI~!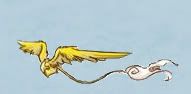 Existing the story...