Sunday, 14 December 2008
Yesterday was the annual EOY'08
Its was very fun. But I nearly died of shame... QAQ
The day started when I went to SakuraPrincess house to help her and SakuraHime out in making onigiri. Onigiri Packing Level UP~!
Thanks to both of them that my make-up was successful, as well as helping me in touching up the ruined portions.
Just when I arrived at the venue and meet up with my nico dance group, which greeted me with a sentence that stunned me for 3.75 seconds and dealt 350 damage.
"Nako, you replace Tim for the performance, your parts are the ran ran ruu and the pettan"
During the performance I totally miscued... rush up on stage too early and after the ran ran ruu part I really don't know where my partner for the pettan part was so I have to "bounce" behind to the spot.. QAQ its super embarrassing...
After that I joined my Tsuabsa team till late afternoon before I split from there to meet with the nico group.
Its fun to be with that cosplay group, we had so much fun posing together with another XXXHolic group during the group shots. I even purposely drop my oranges to have that "being bullied" effect for my sanyun pose.
So near to the end of the event, the nico dance had epic 45minutes dance remix.. Its awesome, even more so to see other cosplayers join in during the parts which they know.
~The End~ ~FIN~
Here's a couple of shots of my panna cotta, its finally yellow in colour, taste is a bit too milky (maybe its due to the heavy taste of HL Milk) and the base is not so solid, needs more gelatin (maybe half a leave more)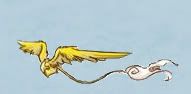 Existing the story...