Monday, 17 November 2008
Went to Shokudo branch at Citylink with the Nico Nico dance group for some epic pasta
Below is the review.
Shokudo pasta & drink review
Dish - Vongole Carbonara, a.k.a clam carbonara
Visual display - the dish is served in a way where the clams with their shells are lined nicely below the pasta while the latter forms a little hill in the centre. The sauce is nicely dressed up in the typical spiral pattern and parsely flakes are sprinkled sparingly onto the dish. Like usual add-on, a fresh stalk of parsely is added for the visual appeal.
Overall, the display is quite common and its does not make me go "can I start now~!" even though the food for the rest has not arrived yet.
Rate - 3.5/5
Taste, Texture & Aroma - For the taste, its very rich in the clam taste and surprising it goes well with a dash of powered cheese provided (don't know the name). The pasta is very Q while the clams are fresh. The fragrance is also very flavourful.
However, there is one unplesent encounter is that twice, I chance upon shell bits which totally ruin the feeling. The clam fleshs are also inversely proportional to the number of shells, in the sense that its appears to have more shells than flesh.
Rate - 3.5/5
Drink - Ume Sho cooler
This drink is basically Ume sho (of low alcoholic content) with a piece of lemon in it.The flavour of the orginal alcoholic drink is there, neither is it too diluted *initially. The subbing of sour plums for lemon is quite innovative but it lacks the authentic flavour.
Problem would be that the ice used is those typical small cubical ice which melt fast, thus diluting the drink and is undesired for any drinks. I would have given more points if the ice would be a big lump like those used in bars.
On the plus side, the ume sho compliments the vongole carbonara very well. The straw that was given is those uber thin type, allowing you to enjoy the drink longer and it is out of the norm
Rate - 4/5
Overall - 3.7/5
Shokudo is worth the money spent, though my review is more geared to the particular dish that I ordered. Base on the taste and texture of their pasta, I would like go there again for different pasta. Afterall the Citylink branch focus heavily on pasta.
I highly recommend those of age to get the ume sho. Its nice and refreshing.
Price is steep, one reason is the location, stuffs sold in the city are usually more expensive than the heartlands.
Lastly - Yes teh Pasta is GODLIKE.. X3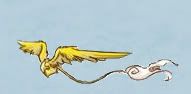 Existing the story...