Sunday, 16 November 2008
Finally finished watching Macross Frontier yesterday, thanks to that, I found another reason to patronise Veoh once more.
Mass spam all 25 episodes, now waithing for the reminding to finish loading.
Also, I noticed that in recent years, mecha anime tend to have awesome songs.
In gundam 00, we have Daybreak's bell and Ash like snow, in season 2 we have another nice opening song.
In Sousei no Aquarion, we have Sousei no Aquarion LOLzzz.
Now in Macross Frontier, almost all the songs are awesome, from the catchy cheerful Seikan Hikou aka Ranka "Kira" song, to the sad love song Shinkuu no Diamond Crevasse, from the upbeat Lion and Triangular ( the two opening songs ) to the slow and soothing Ai Oboete Imasuka.
My personal favorites would be Triangular, Shinkuu no Diamond Crevasse and Seikan Hikou.
I'm also quite tempted to make a plushie of Ranka's cellphone. In Macross Frontier, cellphones comes as customised accessories like in Ranka's case, its a green frog plushie, with the limbs doubling up as ear-pieces.
Alright got to go, sleep..... Tomorrow got OT..... ITS A FREAKING SUNDAY!!!!!!!!!
T.T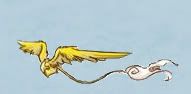 Existing the story...