Sunday, 23 November 2008
Back from AFA'08.
I would say, the event itself is so-so... My excitement wore off in a few hours after I entered the convention halls. The event was divided into a few sections - Main stage, The Arena, Akiba Town, Anime Blockbusters, Mangaka, Planet Mecha and Industry areas.
As expected, Akiba town and Planet Mecha are the most crowded areas. The booths there sold a variety of anime merchandises and mecha model kits. I bought two keyblade keyholders from a booth dedicated to square-enix. Initially I wanted to just buy Oathkeeper but since they have Oblivion and they usually come as a pair, I instantly relinquished my money for these awesome keys. XD $30 Each!!! ><
The cosplays for both days are awesome, especially the Code Geass cosplays
Day 1
Met Knife while still at Cityhall Mrt station and walked to the convention halls. We ninja-ed the queue *just nice Lockie and the gang were waiting at the counters for their turn, collected our tickets moments after we arrived there, and further ninja-ed our way in XP.
Joined the group to tour the venue for a few rounds. It was then when I made impluse purchase on the Keyblades Xb
Had mega mac for lunch and played silent hill arcade for a while until 2pm which I broke off from the Nico Nico dance group to meet my EOY team.
We had a mini meeting as well as ice breakers in the form of poses rehearsing.
Again, I joined the team to tour the convention for 2 rounds and regrouped with the Nico Nico dance group as we wait for the conert by AniKi.
Yesterday's concert was simply awesome. The singer is the renown Ichiro Mizuki aka AniKi.
He sung song from Mask Raider, Mazingar Z, Voltron, Lupin etc. The audience was superb, all are hardcore fans for the anime/shows which AniKi's songs were featured in.
His vocals is also *speechless.... Been singing for 40 years and he still has that explosive power. XD
AniKi's jokes were also uber funny, all Hail AniKa
Day 2
Went there for the sole purpose of attending May'n concert.
Met Rowen (my secondary school close friend) there and we chatted for quite some time while waiting for May'n concert XD.
Me, AlucardX and Yuchi actually managed to get the front portion for the public but I figured it wouldn't be fun without the rest so I gave up the place for Rowen and his friends. In the end, I "camped" in front of the Arena area.
Today's concert was fun. The songtress for the day is none other than May'n, the seiyuu and singer for Macross Frontier.
Her perfromance was equally awesome as AniKi's performance. My friends and I were like jumping, swaying, headbanging and moshing to the beat of her songs.
Hearing Live indeed is different than the recorded version. I'm still high on her perfromance. XP
For the first time, I actually find myself in concerts of famous artists.
3 more weeks to EOY, yet another awesome event. XD
I"M STILL HIGH..... MAY'N, ANIKI!!!!!!!!!!!!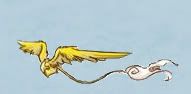 Existing the story...