Sunday, 5 October 2008
Zombied along...
Yesterday night was epic fun.
I went down to ECP for a bbq farewell party for my friends in sgcafe. The food was awesome.
AlucardX's chocolate mousse and the cream cheese cake rox!! Then I missed the last bus home so I joined some of them to ton overnight there.
It has been like ages since I last kept myself awake all the way till the next morning.
We chatted from 1am to about 3+am, then we played cards till about 6am.
Saddly there was like heavy clouds there so we couldn't see any sunrise.
The fun part later was that we did some dances on the beach till 8am. Then, we dragged our sleepy heads back home.
It has been like stone age since I last exercise in the early morning.
Now I need to retype my MP title and sypnosis, I'm changing title.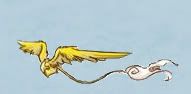 Existing the story...