Thursday, 23 October 2008
Only Crazy People Think of Crazy Ideas
I accidentally deleted my recycle bin shortcut... Couldn't restore it.
Previously I also did the same thing, went to reformat the com because of it....
Now, I use some crazy idea that I had though off.
Copy the shortcut from my sis's com and use it here. Surprising it works.
XD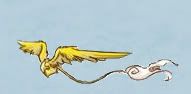 Existing the story...