Monday, 13 October 2008
Just finished my NS registration.
Been very busy these days.
The validation team are rushing me for the Preventive Maintenance (PMs)
Also I'm like lazy, procrastinating about doing my MP research...
LOL and I'm like complaining about lack of time...
A piece of good news admist these storms, Pan-In-The-Box finally told me that their tailor agree on rushing my Sanyun costume, I can collect it roughly by the end of this month.
Freaking Awesome Varia art... If my NS enrollment is after Cosfest09, I swear that I will do this version's Mosca.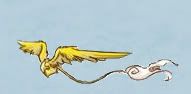 Existing the story...