Sunday, 26 October 2008
I WANT A DS!!!!
Just watched the trailer for Kingdom Hearts 358/2 Days.
The game is awesome, and the music for the trailer is very emotional.
For those who know about Roxas(Main character for this game)'s storyline in Kingdom Hearts II, you will most likely feel sad when the music plays.
Now there's this new character, Xion. Wonder who's she...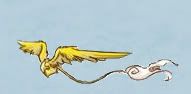 Existing the story...