Sunday, 19 October 2008
Friday
Awesome Watermelon dessert. XD
After work, I went to meet up with Xeth, Broken, Karei and Invic for dinner. It has been like 2 years since I last had any meal in Hougang Mall food court.
The fried oyster omelet which I ordered is so-so... I want Chomp-Chomp "Orh Luah"
After which we head over to Xeth's home for epic watermelon dessert. We dug the melon clean and use it as a bowl for the canned longangs, pineapples, nata de coco and the melon flesh.
I cant say the ingredients for the "sauce" or water or whateveryoucallit. Its epic win. XD
Saturday
Nothing much, had sampling in the morning and managed to simulate the Necroface-life gain deck in Yugioh Tag Force 2. Its uber gay but if I cant draw the right cards, its useless.
Sunday
I had awesome high tea just now. My 3rd uncle and his wife are going to Thailand for work and will only be back in Singapore before Chinese New Year. So he treated the whole family high tea buffet in a Tim-sum restaurant located in Novena Square 2. The char siew pie is awesome, so is the drunken chicken. However, the chives dumplings just barely pass... T.T My favorite Tim-sum...
Also because of that, I couldn't join the rest of the Nico Nico dance group at the airport to send Greenzake away to Australia. He's migrating off to Australia, I hope for his safe journey.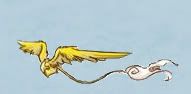 Existing the story...