Monday, 8 September 2008
WOW...First day of work and I'm already complaining...
Had a bad start for work today, and don't worry. The following rant has NOTHING to do with the company which I'm attached to.
Rather, its for the epic SMRT & SBS for their wonderful concessions system.
I was going to purchase the concession for MRT since I need to get to outram park to catch the company's bus to Tuas. However, the person behind the glass panel told me that it is IMPOSSIBLE to purchase the MRT concession today as my bus concession has yet to expire, and the system do not allow me to make purchase.
WTF!!! What has bus concession got to do with mrt concession. Sure it helps one to keep check on both concessions but this is plain BS...The system, as explained by the mrt personnel, only allows one to purchase only bus OR mrt OR hybrid concession at a time.
So I'd try the alternate method, that is to nullify my current bus concession(I'm prepared to give up the remaining days and the money) and purchase the hybrid one instead but Noooo the system do not allow cancellation of the concession. Now I have to spend additional $30++ just on travelling.


*Puff..
Ignoring that aside, the company that I'm attached to is actually very friendly, one being its a very caucasian company. Since the company is still in its primary stage, we've got experts from all over the world to help out. My friends and I would be doing GMP based job, heavily paper based. Well, its mostly validation, executing SOPs and protocols.
Somehow, it kind of feel weird since all the part time jobs I have are not office based. To have my own table, PC, etc in a location other than my home really made me feel weird. Not really my own though since its shared with my friends. Its just the first day at work, so basically we had IT orientation where we set up our own emails, accounts etc, recap on GMP, facility tour.

But I'm kind of beat from the early wake-up and the long distance travelling.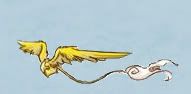 Existing the story...