Thursday, 11 September 2008
Well come to the real world...
Don't know why, recently I just like to rant about things. Maybe because I'm lacking of sleep.
Again, nothing against the company I'm attached to. Here goes...
*remember to apply auto-censor when extreme words appear.
This morning, drama unfolds.
That faggot snapped because we kept shooting sarcastic missiles at him. Maybe its personal vendetta or some other crappy reasons, he decided to use me as his "punching" bag.
Initially, I'm ready to ignore him since ignorance is bliss. However, that jackass kept his trap opened all the way from the company's canteen to our office tables. The canteen is about 5 minutes away from the office and the latter is on the second floor. Oh, did I mention that we detoured into the gents...
That wasn't the the end, what made me post this rant is that every time, everything he commented that are not related to work are sarcastic remarks.
FUCKING BULLSHIT. If you want to be sarcastic, jolly well learn how to accept sarcasm.
Who the FUCK does he think he is!! Like he's the ONLY one that can be sarcastic to others and other cannot be sarcastic to him.
Let me enlighten you, fucktard, about the rules of this game of Flames.
1 - Accept the heat from the flames before you play with fire.
2 - These flames are not real.
Play by the rules. Kid (even though he IS a Year older than me)
Grow up...
That's just one of the bones I want to pick on.
Seeing this epic phail drama, the faggot have no fucking rights to bitch about my friend. So what my friend likes to boast, at least he play by the rules and is mature enough to not bitch about these punny flames.
I don't even understand what's wrong with him... Every sarcastic remarks shot by him contains explicit context. Is he really that hungry?? If he is, I suggest go to the net and stuff himself with pr0onz, cheap and safe. No risk of STDs even.
I remember that yesterday, I even told the six of us of my policy of accommodation.
*If you did nothing that infuriate me, I will still be your friend even if the world is against you.
Now, that policy will not apply to that asshole again.
Lastly, I am a LEO, the last thing to trample on is a Leo's pride, and he just did. Now feel the pain of this angry lion.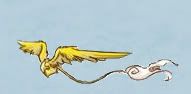 Existing the story...