Monday, 29 September 2008
Just finish watching Code Geass R2 last episode.
Nice ending, but it's a little tear jerking.
The show begins with Lelouch using geass on Nunally, obtaining the trigger for firing the FREAJI - dimension bomb. Using its immense power, he won the war, ended it and started his dictatorship.
However, it was all planned, for Suzaku will appear as Zero and assassinate Lelouch during a execution parade. In another words, Lelouch dominated the world, causing the world to hate him and then staged his own death to remove that hatred together with his existence.
The tear jerking part is that those Lelouch holds dear will know of his plan after his death (due to Geass).
Sad....
All hail Lelouch...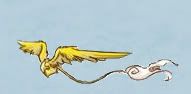 Existing the story...