Wednesday, 10 September 2008
Haizzz
Just checked my exam results
cGMP - C+
PMT - C+
BPT - C
PA - C
Total GPA - 2.88
Expected.... I just knew that my GPA will drop again for the third consecutive time. Well, at least my cGMP and PMT are C+. Made me feel a bit satisfied since I am posted to the engineering side of the manufacturing department in Lonza, need these two the most.
I'll be the most unluckiest guy on Earth if my GPA drop once more during this "sem" aka SIP & MP Phase.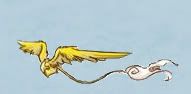 Existing the story...