Saturday, 13 September 2008
Didnt have much things to do today.
I'm still in my Post-PSP mode.
Spent the whole day searching for ISOs and had a few blocks by Megaupload since I can't seem to download files from the site despite installing their Megamanager software...
Currently playing Crisis core and Warriors Orochi, waiting for my other games to finish downloading.
Finally I have my own PSP !!! XD
But my wallet felt a burn... >.<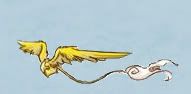 Existing the story...