Tuesday, 5 August 2008
THANKS EVERYONE ! =D
To start, I was going to were my neko-jacket to school today but it's kinda stuffy at the back so sorta changed it out to my usual cycle of long sleeves.
It was a pretty normal day, until Yonglin's presentation on his OSIP trip to Beijing. He's one lucky guy, can go to China for his SIP.
Special thanks to Alfred, Fang Ying, Wang Tat and Ya Zhi. I like the new present.
Well, let me guess, this present was bought around the same time when you all went to get present for Candy. Lolz
I still have the Black Saber present in my stash, in Mint condition. Oh and thanks for the card. XD
Just made another batch of panna cotta, now trying to revamp the recipe and make it suitable to my taste. The first batch to me was a little on the sweet side.
THANKS, You all made my day. =)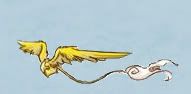 Existing the story...