Saturday, 2 August 2008
Just finished my PA SOP report, on monday I just meed to go to TP library and find the modal answer and edit base on it and VOLA.. One report down XD
Today was a normal monthly meeting for JCG. After that we dueled in yugioh for the whole day. Kazu remodified his deck into a warrior deck. Very fast and scary when he draws the right cards. Oh, I also learnt the first 15 or is it 30 seconds of the Yaranaika routine. The routine is fun to learn and my friends in SGCafe called it the "Gay Bar of Japan" LOLzz....
Around the evening, I went to Red Man to get my whipping cream, full cream milk, gelatin and vanilla extract.
In about nine hours later I'm going to try making panna cotta, without the strawberry sauce though as the strawberries in FairPrice is not fresh anymore... T.T
Now, I'm uploading Sousei no Aquarion piano ballad version onto imeem server. I chanced upon this song while scanning Nico Nico Douga, a japanese website similar to youtube but with high quality videos and audios. The song was played by this lady and I really like her arrangement of the song. Its very soothing to the ears and unlike normal piano arrangements, the tempo of this song increases gradually yet it does not affect the ambiance created by the initial slow tempo.
Enjoy
PS - Christ, if you want the song, bring your data bank during drawing session.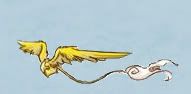 Existing the story...