Friday, 29 August 2008
Its has been a while since I last posted an entry.
Changed the BG to .Hack/G.U
Also I've made a jukebox, instead of those individual songs. Some of the songs are plain soothing while the rest are fast and upbeat type. Some depict sadness while some are the epitome of happiness.
Sigh... Going to start my SIP soon, as in real soon. Going to Lonza Biologics situated in Tuas/Jurong Island, the extreme westside of Singapore.
The daily work duration is 8am to 5pm.
Need to wake up very early, makes me feel like really working.
Well nonetheless, I could use this 5 months as an experience, since most pharmaceutical plants and research labs are in the west.
Luckly the company does has its own transports. The nearest bus-stop is at outram mrt station, just nice along the NEL. XD
Tomorrow there's the Matsuri at Vivo, planning to drop by and dance XD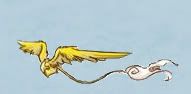 Existing the story...