Sunday, 13 July 2008
Yesterday was like so fun..
Went down to esplanade to learn a new dance. But the area suddenly turned into a queuing area for people who were going to watch the NE Show.
So in the end, me and my Sgcafe friends went to slack in Marina while waiting to watch the fireworks.
We did all sorts of random stuffs like feeding Touhou "head" pictures which Tim brought. Yuukuri Shiteitee ne~
While playing Touhou SWR, Dawn (Tenshi) was like trying to smash Broken (Youmu) with Tenshi's trademark Boulder-smash attack, but got reversed by Broken due to his lucky spellcard.
After the fireworks, we hang around the arcade in Marina, spent 3 dollars there with 2 dollars on TC2 and final dollar on MS4. Broken was again the epic one. Played this uber old shooting game with a shared screen. The guns will vibrate while the player shoot and there are no bullet limits. Rambo~!!
Lastly, before we left for home, I got my European Caramal Custard parfait. Its AWESOME~!!!!
Offered a bit to everyone who was part of the caramelldansen team, in celebration of our epic routine XD
XD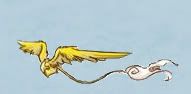 Existing the story...