Tuesday, 22 July 2008
This post is dedicated to n3o.

Here are some of the pictures of Cosfest08, which I had collected from the forums.
Credits to all the photographers there and their wonderful editings (if any)
Shizu, cosplaying as Verse from FFXIII. She's one of the well-known cosplayers in TP and I like how she protrays all the characters, most of them are male but she made them look so stoic and added a touch of shuai-qi..
Remember Dynames from EOY?? The dude's back now in Exia.
I'm the one in the last pic, with the plushie..
For more pics, move your mouse to sgcafe.com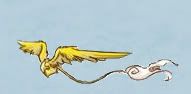 Existing the story...